Who doesn't love a good quest? Whether it's in search of a holy grail or to destroy the one ring to rule them all, we lose ourselves in the hero's journey – armchair adventurers in stories that capture our hearts and imaginations. Feeling the call of adventure and needing to inject new energy into my life, I embarked on a quest of my own this year. And since I like things that come in threes, it soon became the three quests – the quest of the body, the heart, and the mind.
The Cambridge Dictionary defines quest as a long search for something that is difficult to find, or an attempt to achieve something difficult. In my case, I was focussed more on the latter, but I suspect that both aspects are tightly interwoven. When we accomplish something out of the ordinary, do we not discover more of who we are? Of what we are capable of?
The sense of achievement and the symbolism of reaching the top of a mountain is incredibly powerful and so it was easy to decide on Nepal, the Himalayan Kingdom, as fitting backdrop to this adventure. It may well have more peaks over 8,000 metres than any other country, but I wouldn't be climbing to the top of any of them. Instead, I was climbing to the bottom of a mountain. But not just any mountain. Everest Base Camp, located at 5,364 metres above sea level – higher than I'd ever been.
I was clear from the outset that this would not be a journey to find myself on some remote Himalayan peak or along the banks of that holiest of rivers, the Ganges. Nor would it be purely an escape to a culture and landscape vastly different from my own. No, this was to be a trip of intention – one filled with purpose and deeper meaning. Perhaps I was being just a tad over-earnest as several of my friends made a point of reminding me not to forget to have fun along the way. Their well-meaning concern must have stuck in my head as I was able to recall their words and consciously seek out fun and adventure when I needed it most.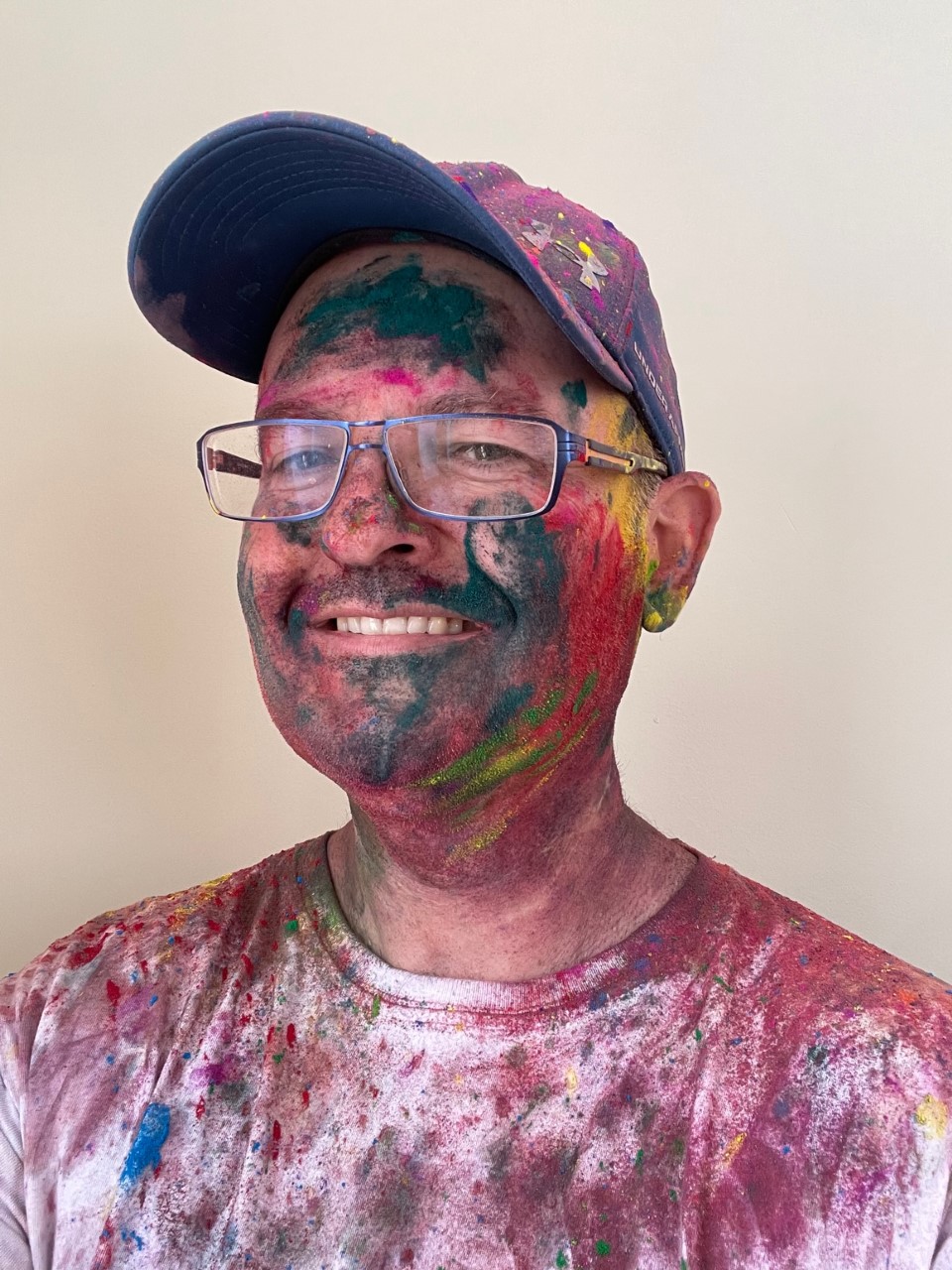 Quest of the Body
Lukla airport, starting point for the 12-day base camp trek, is often described as the most dangerous in the world. Just getting there is an ordeal – a five-hour bus journey in the middle of the night from Kathmandu to Ramechhap, where flights depart. Due to poor weather the day before, we had an 8-hour delay before the backlog cleared and our flight could take off. With stress hormones coursing through my blood, tightening my chest, and quickening my heartbeat, the quest of the body had started before ever setting foot on the trail. The tiny 12-seater propeller plane had no door to the cockpit meaning we could not only see the pilot, in whose hands our lives depended, but also the short strip of tarmac surrounded by towering mountains where he would need to land. What a relief to suck in the clear mountain air and plant our feet on terra firma once again.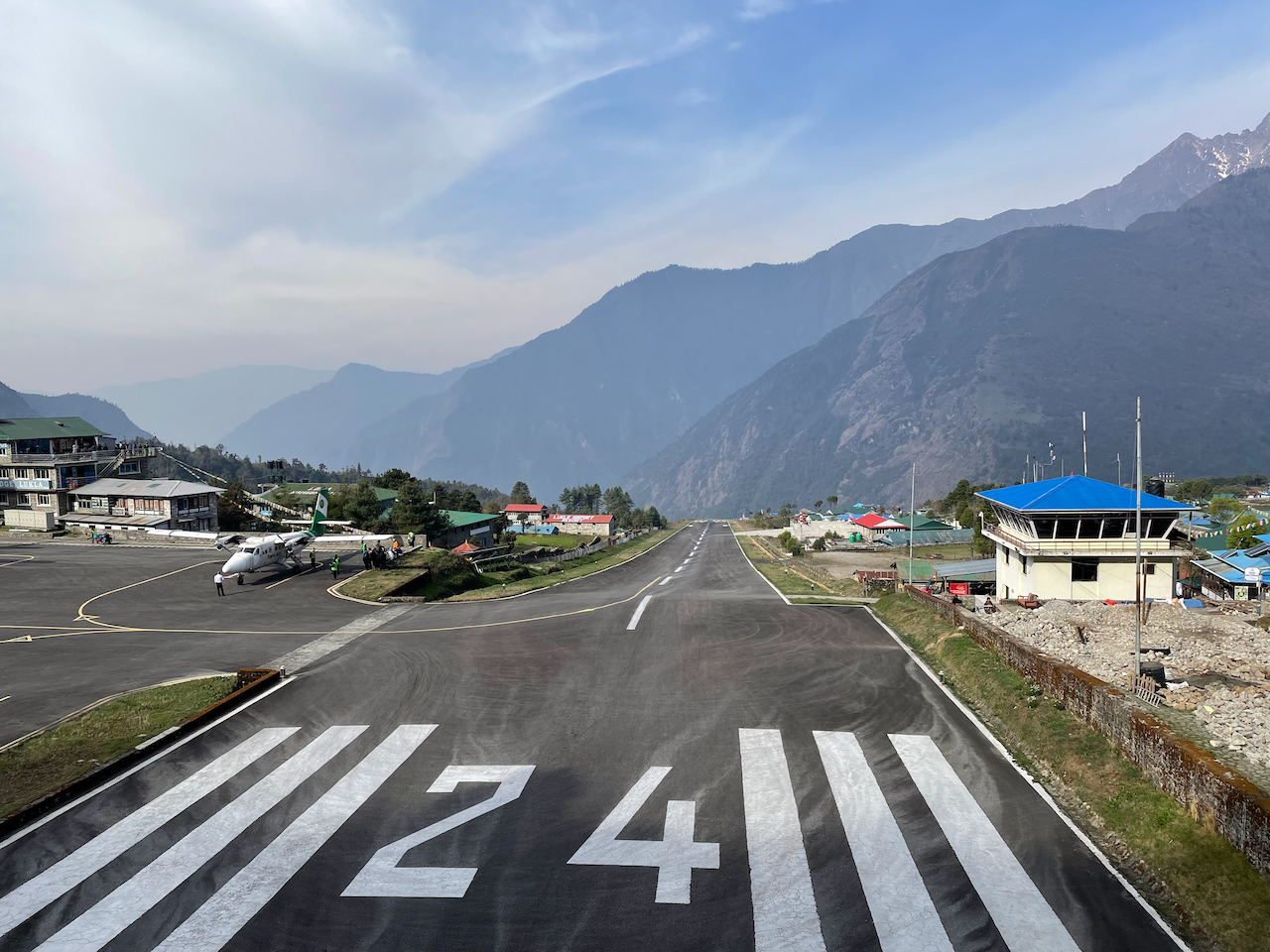 The timing of my trip coincided with one of those milestone birthdays that serve as a potent reminder of mortality and the weakness of flesh. Who knew if I would make it to the next big milestone? Or if I would still have the health and fitness to do something so physically challenging in the future? A recent scan had shown damage to one of my knees that stopped me from jogging and prompted me to get physiotherapy. I was keenly aware of my body's limitations and so took all necessary precautions. Without my trekking poles, I doubt that my legs would have carried me through to the end.
It was Day 8 when we made the final push for Base Camp, leaving Lobuche early in the morning and stopping at a teahouse in Gorakshep to eat. The magnificent Nuptse stole the show, towering 7,861 metres tall, and reminding me of a pavlova meringue dolloped in whipped cream. The terrain was the rockiest we encountered on the entire trip – lots of hopping from one boulder to the next with long stretches of loose gravel. I was operating close to my limit but then again, hadn't I revised my limit upwards more than once already? The altitude left me feeling completely exhausted and my head pounded like a jackhammer on asphalt. I developed a new appreciation for the near-miracoulous atmospheric conditions that our self-regulating planet provides us with to survive and thrive at normal elevations. As I plodded along zombie-like, focussed on putting one foot in front of the other, I kept telling myself that I hadn't come this far to just turn back. By the time I got to a huge rock with "Everest Base Camp – 5,364 metres" scrawled across it in red graffiti, I could only think of one thing.
How on earth am I going to make it back down again?
But I made it. I achieved my dream. Afterwards I realised that I need more goals like this in everyday life that really stretch me. We are all capable of far more than we think.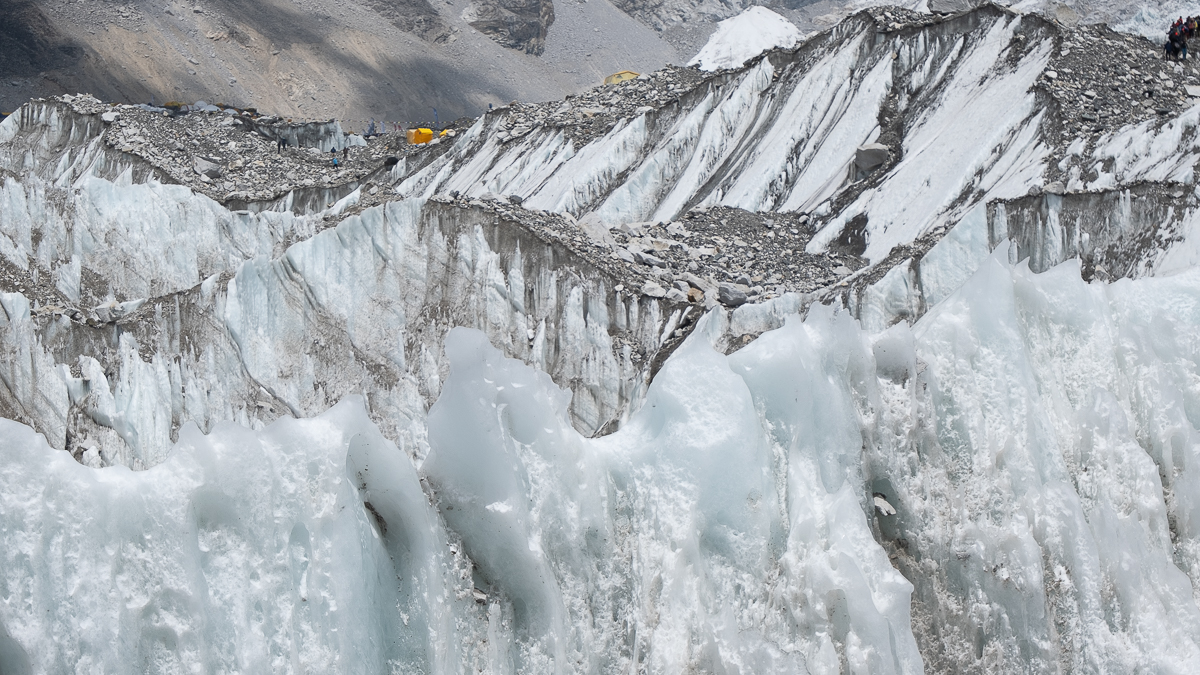 Quest of the Heart
You are forgiven if you think that the quest of the heart could be a holiday romance or even the passionate pursuit of some adventure sport. So, let me put the record straight. Several years ago, I set out on a path to become more self-aware, more intentional, and more purposeful by tapping into the power of emotions. In short, I dedicated myself to becoming more emotionally intelligent. I'm always thinking about how I might reach a larger audience. What if I could share what I learned with the people of Nepal? I wondered. So, I explored options to connect with locals who were already active in this area. As a consequence of this, I partnered with My Emotions Matter to offer a workshop to educators in Kathmandu and organised a separate event on the topics of optimism and purpose at The Empathy Cafe, near Chitwan National Park.
Throughout the Covid lockdowns and before, I had only hosted online workshops and so these real-world events in far-off places were a challenge of their own. Due to a mix up on my part, I arrived late to the workshop in Kathmandu. A stressful situation, but the perfect opportunity to practice managing my emotions. The first step is being aware of how you are feeling in the moment – not such an easy task since we're often cruising along on automatic pilot and reacting in harmful or unproductive ways. With this awareness of my emotional state (anxious, annoyed at myself, slightly embarrassed), I was then able to slow things down and choose how I wanted to respond. I was able to show up as the emotionally intelligent person I was telling participants they could also become – something that is even more valuable than the content I was sharing as the participants picked up on this.
Not that I'm emotionally balanced all of the time. That's an ongoing journey. But with a learner mindset, I could take some of the pressure away from being this EQ expert all of the time and allow myself to be inspired by local people who often showed me the true meaning of kindness and equanimity. Indeed it was the calm and supportive reaction of two staff members in the guesthouse I was staying at that very morning that reminded me of who it is I wanted to be.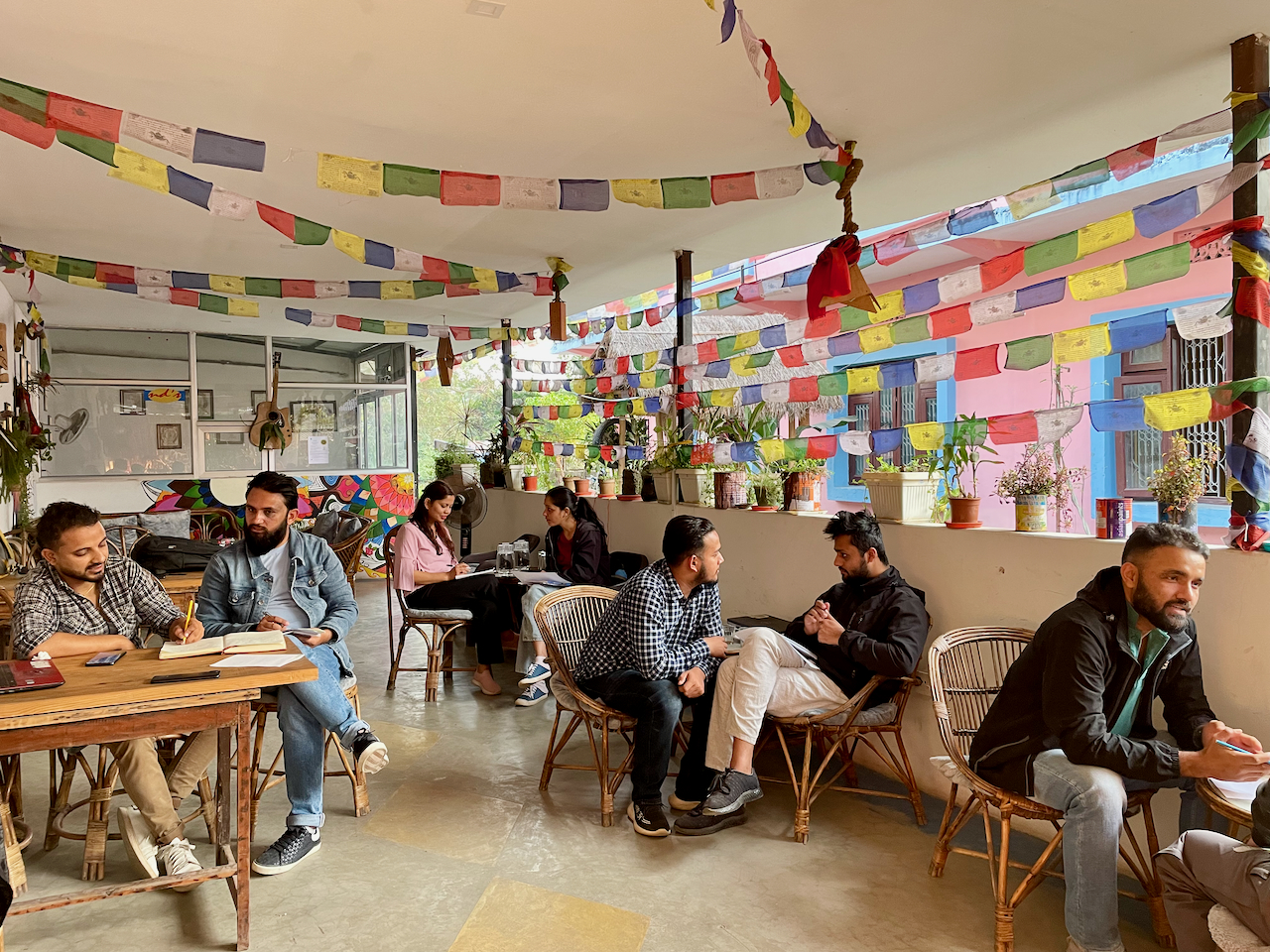 Quest of the Mind
Let me start off by saying that my original plan was to pursue a quest of the soul. Anything spiritual was anathema to me as recently as a few years ago but then don't we all change? My way in was through a course on "Transforming Emotions" at Kopan Monastery in Kathmandu. I would get the perspective of eastern philosophy to compare with my training grounded in western psychology and empirical science. Soon I was to realise that the concept of a soul doesn't even exist in Buddhism and so it became a Quest of the Mind – the seat of human consciousness, distinct from the thinking brain.
What became clearer to me on my quest of the mind is, funnily enough, my mind. Free from the distractions of the news cycle and social media, liberated from the need to make small talk or complain, my mind became more subtle, more aware of itself, a meta-awareness. Those seven days at Kopan, largely spent in silence and deep reflection, opened up new ways of understanding who I am and my place in the world. I learned so much wisdom from our teacher, the Venerable Joan Nicell, and gained valuable insights from meditating on those teachings.
As a result of that experience, I decided to go to India where I spent a further ten days at Tushita Meditation Center in Dharamshala, home-in-exile of the Dalai Lama. There I deepened my meditation practice and explored more profound concepts about the nature of suffering and the self. One concept that particularly stands out for me is known as Bodhicitta – the desire to achieve enlightenment so that all sentient beings may be free of suffering and be happy. In other words, to dedicate your life to spreading loving-kindness, compassion, and wisdom for the benefit of others. I can't think of a goal more noble than this.
In fact, these teachings have turbo-charged the desire to pursue my own noble goal – to nurture emotional wellbeing in others so that they flourish – and to take it to a deeper level.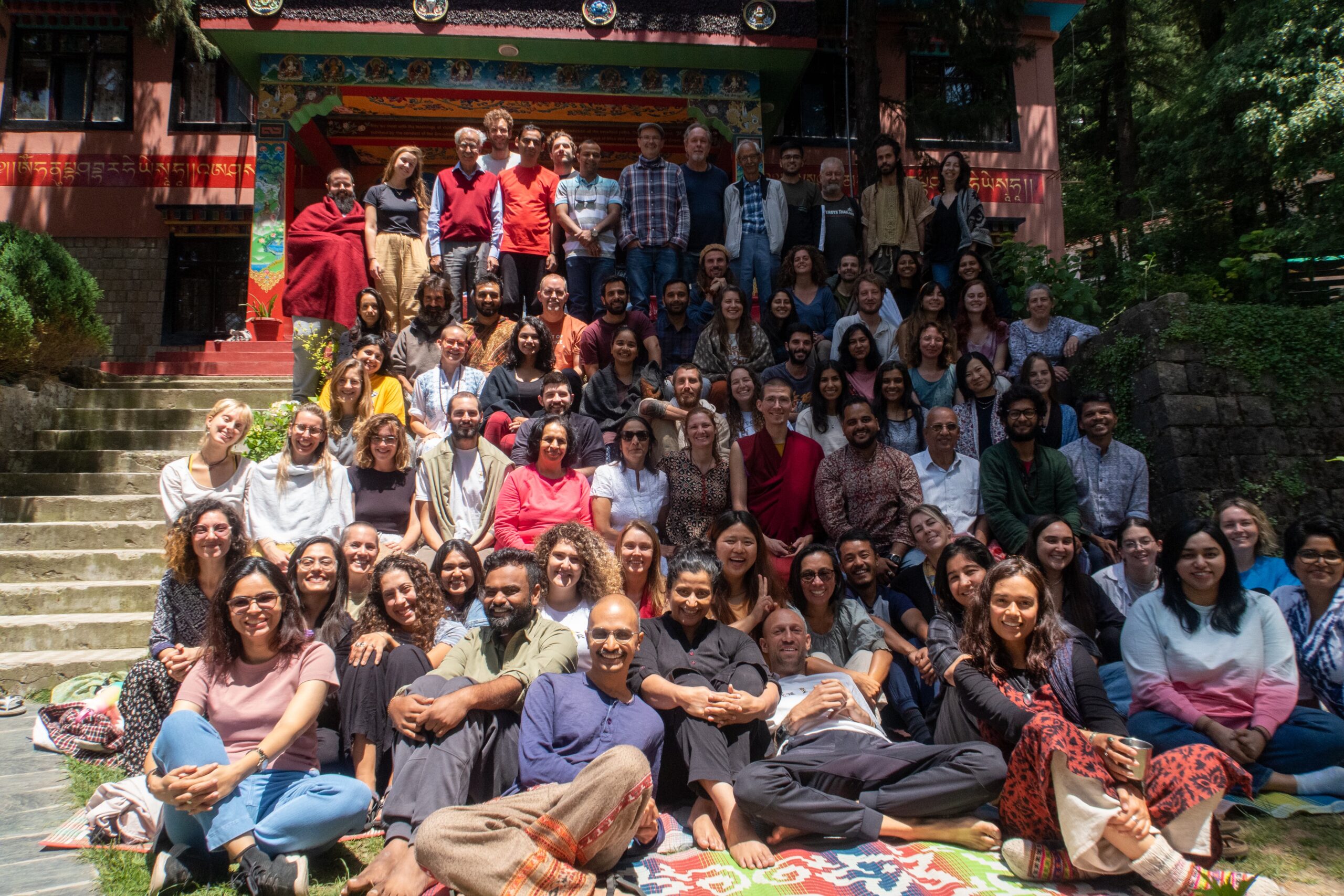 Sequel
I love to journal. Rather than simply chronicle the events in my life, I use the pen and page to explore those crevices of my mind that hold the answers to why I am who I am and how I can become a better human being. Upon reflection, I've learned that by setting ambitious goals and putting structure in place, I can accomplish more than I think possible. Rather than seeking answers at the level of the intellect, I've listened to the intelligence of my body, my heart, and my mind (i.e. the clear blue sky of pure consciousness rather than the passing clouds of mental activity). I'm more in tune with those aspects of myself and I'm experiencing more clarity, ease, and purpose in my life by making the wisdom that has been generously shared with me my own.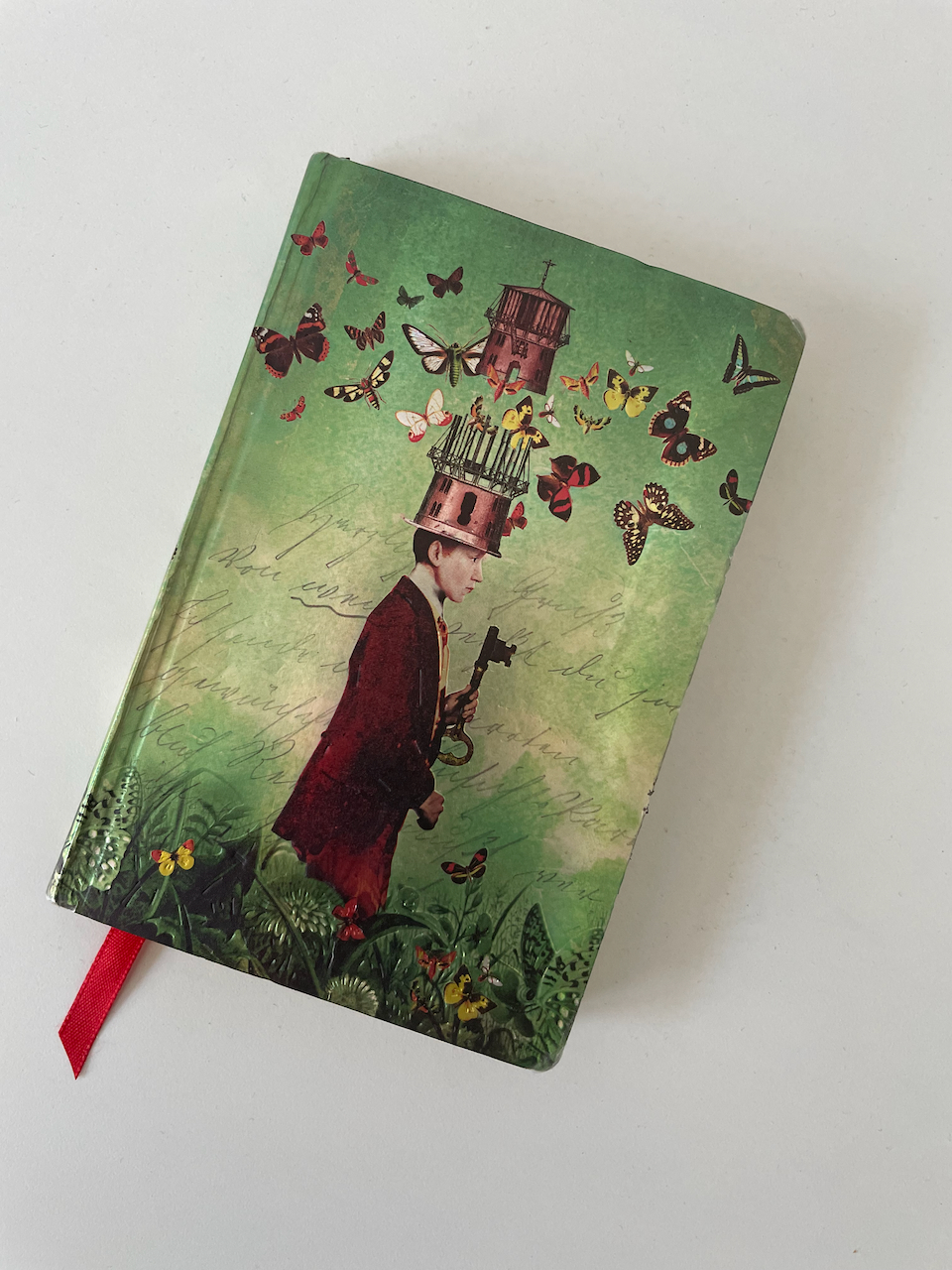 In a way, I converted all the physical, emotional and mental energy expended on the base camp trek into potential energy. It's sitting up there at 5,364 metres, a great boulder, covered in lichen and surrounded by rock and ice. What if I could roll that boulder down? I could transform all that store of potential energy into kinetic energy to get me moving down here at sea level. I could drive my personal ambitions forward when they become stuck in a rut.
Visualisation and use of metaphor are powerful techniques when coaching a client. What if I could apply this to myself?
But first of all, I need to rock that boulder back and forth on its spot until it gains enough forward momentum to hurtle down the mountainside. These are the small steps that can unlock the much larger source of energy, the intrinsic motivation, and the self-belief, that propels some people to achieve remarkable feats in service of others.
Since returning home, I've developed what I call my Five Pillars of Wellbeing in an attempt to unlock that energy potential.
1. I'm back at the gym for the first time in more than ten years as I continue to develop a new and healthier relationship with my body.
2. I'm meditating (almost) every morning to calm my mind and improve my focus and I'm training my mind by deliberately choosing to think in healthy ways. For instance, when I walk along the river in the evening, I try to take delight in other people's joy – a practice I'm building based on the Buddhist concept of mudita.
3. I'm volunteering in a German language café with refugees and migrants once a week and I'm about to become mentor to an 18-year-old refugee from Afghanistan.
4. I'm investing more time in friendships – both new and old – taking the initiative to reach out and build connection.
5. And I'm journaling as much as ever, creating more self-awareness, and gaining new insight into how I bring more compassion and wellbeing into the world.
The journey of the three quests is very much still alive.